Our Staff
« Back to Staff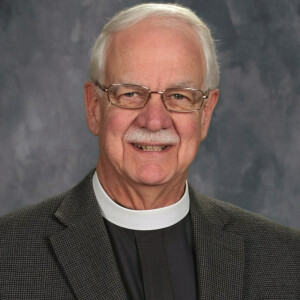 Rev. Dr. Robert Preece
Senior Pastor
office: 214-363-1639 x205
mobile: 214-477-9057
Degree: Doctor of Ministry from Drew University in Madison, New Jersey
First Year at Zion: 1990
Brief Biography: Zion's Senior Pastor is the Rev. Dr. Robert C. Preece. Born and raised in Austin, Pastor Preece came to Zion in 1990, having served previously for 17 years at Immanuel Lutheran Church in Waterloo, Illinois (metro St. Louis). A 1973 graduate of Concordia Seminary, St. Louis, he earned a Doctor of Ministry degree in 1981 from Drew University, Madison, New Jersey.
Pastor and his wife Linda, also from Austin, have two sons, Justin (married to Cindy) and Matthew (married to Jenny), along with three grandsons. Linda is a retired fundraiser, having served Southern Methodist University for 22 years. She contributes her musical talents at Zion and is a member of the Altar Guild.
Pastor Preece has led the parish in two successful capital campaigns for debt elimination on the 1982 church building, burning the mortgage in December 2002. During the past decade, Zion has improved its facilities, reconstructed parking areas, and most recently in 2009, expanded pastoral services with the establishment and staffing of a Minister of Youth and Parish Education. Through the current Boldly Building Zion's Mission campaign, the parish is expanding its space resources, adding school classrooms, a larger gym, office and music facilities, and repurposing other space for additional ministry activities.
As part of Zion's mission and ministry, Pastor has led Zion work trips to Guadalajara, Monterrey, and Cuba, and journeyed to India, China, Nigeria, Kenya, Israel, and Jordan for other pastoral labors. Closer to home, he organized and/or participated in 10 hurricane relief trips after Katrina, Rita, and Ike struck the Gulf Coast. The parish supported Pastor's work in the formation of Lutheran Inter-city Network Coalition (LINC North Texas). In 2012 he completed 4 terms as vice president of Area B (110 congregations) for the Texas District-LCMS.
Pastor Preece cordially invites you to visit Zion Lutheran Church, where God's people gather to worship, hear and proclaim the saving Gospel, receive the Blessed Sacrament, and serve one another, the community, and the world in Christ's Holy Name.